At Riverbank Psychology we are passionate about finding creative ways of using the knowledge and experience we have built up over the years. We would like to take this opportunity to honour the people who have contributed to our learning and development along the way, particularly the service users who have consulted us as well as our teachers, trainers, coaches, mentors and family members.
Our clinical psychology skills enable us to draw upon a range of theoretical models and therapeutic practices to develop tailored therapeutic packages and bespoke training.
Our vision is about enabling people from all walks of life to recognise that they are not alone in the difficulties they face, rather that it is possible for them to co-create communities of people who can support one another in responding to the challenges in their lives. We find that narrative ideas and practices offer particularly the innovative ways for bringing people together, promoting well-being and resilience and reducing stigma.
Some of the projects we are currently involved with include:
If you are interested in finding out more about our current projects or if you would like to discuss options for working with us to develop bespoke training for your staff or resources and therapeutic packages for your clients please contact us.
About the Team of Life 
The Team of Life is a form of Collective Narrative Practice that has been used within diverse contexts internationally, for example with former child soldiers in Uganda, young men from refugee backgrounds and young people in Australian schools. For more information on the origins of the Team of Life see the Dulwich Centre.
Vicky has adapted the approach into a therapeutic intervention programme in partnership with teams of children and young people, Wirral Schools, the Dulwich Centre and Cheshire & Wirral Partnership NHS Foundation Trust (CWP).  Results from a pragmatic randomised control trial undertaken in partnership with University of Liverpool and CWP are currently being written up for publication.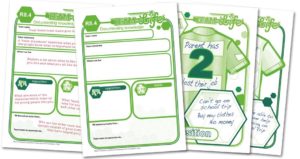 Vicky has also developed the Team of Life Kit, a downloadable practitioner resource which is a cost effective and sustainable package aiming to support practitioners and organisations wishing to promote positive mental health, emotional well-being and resilience among children and young people.
Contact us for more information on the full Kit. You can also find a free resource explaining how to use Team of Life to help children and families develop shared goals here http://www.mefirst.org.uk/resource/mapping-team-goals-team-of-life/  
What is the Team of Life?
The Team of Life: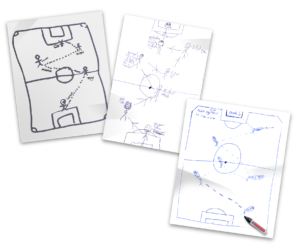 Brings people together in teams using sporting metaphors

Develops awareness of support networks

Builds a sense of connected identity by establishing a 'team of life' from amongst family, friends and other significant relationships

Shows how people they worked together with their team to 'score' a goal using 'Goal Maps', an innovative way of celebrating goals

Enables people to reflect on how they can overcome obstacles with the help of their team

Is strength-based and does not require young people to directly discuss problems or trauma

Facilitates a sense of agency in the young people, who can be active contributors to the lives of others as well as to their own lives.
Tree of Life
"Telling stories in ways that make us stronger" (Wingard & Lester, 2000)
The Tree of Life (Ncube, 2006) http://dulwichcentre.com.au/the-tree-of-life/ is a collective narrative practice that was first developed in work with children and young people in Southern Africa whose lives were affected by HIV and AIDS.
The flexibility and universal cross-cultural appeal of the methodology has led to its use in a broad range of contexts internationally and in the UK such as with refugee groups, acute mental health settings, learning disabilities, professional groups, women's groups, etc.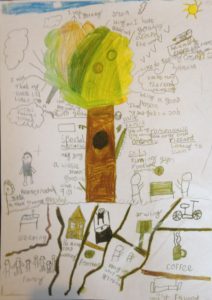 The methodology uses metaphors from the natural world to emphasise people's skills, abilities, hopes and dreams by inviting them to draw a tree to represent different aspects of their lives: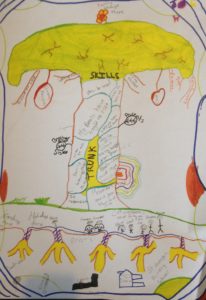 The roots are where you come from, family history, favourite place, favourite song or dance, treasured objects and special memories.

The ground is where you live, where you go to school or work, everyday activities and hobbies.

The trunk represents skills, qualities and values

The branches are hopes, dreams and wishes

The leaves are important people in your life

The fruits and flowers are the gifts you have been given
Tree stories are then shared and a 'forest of trees' is created to represent the community standing together. This process helps people to find a safe place to stand or 'riverbank position' from which to respond to the 'storms' of life.
Tree of Life within Physical Health Settings
We are currently involved in a project with Manchester Centre for Genomic Medicine and Birkbeck London, offering this creative way of working to people living  with a family history of Huntington's disease. 
Our work using the Tree of Life within physical health has been presented at European Conferences including the European Conference in Narrative Therapy and Community Work in July 2016 and the European Society of Human Genetics Conference in May 2017. We deliver a Tree of Life group intervention as a support option for people either living at risk of Huntington's disease or who have had predictive testing themselves.  We are looking at the feasibility of offering narrative groups across a range of genetic conditions. 
Tree of Life in Schools
Schools are now expected to be finding ways of supporting well-being and building resilience among their students.
The Tree of Life is an innovative cross-cultural approach that is being used in schools all over the world. The simple beauty of the approach means a range of staff groups can get involved including teachers, pastoral and support staff.
Delivering and Training
We have experience in directly facilitating Tree of Life work in schools as well as training and supporting staff with delivery. For example, following our training and support, one teaching assistant extended her Tree of Life work with students to work with groups of parents.
Whole School Tree of Life
The Tree of Life can also be used at a whole school level. Following a training session that was delivered to the whole staff group, one primary school adapted the Tree of Life methodology to their respective classes from Reception (aged 4) up to Year 6 (aged 10-11). This is where the creative skills of the educational professionals and students at the school shone through, for example, some of the groups made tree models using pipe cleaners, Plastercine and a whole host of decorations. Others hung photographs of loved ones on their models and others tied ribbons to trees in the school yard with messages thanking important people in their lives for the gifts they had been given and expressing their hopes and dreams for the future. This was a particularly meaningful process for the Year 6 students who were due to leave for secondary school a few weeks later. They marked the occasion by planting a tree in the school grounds and had a celebration event inviting parents to the switching on of tree lights and to share their hopes, dreams and words of thanks.
The success of the project was down to the way all the staff including the senior leaders, teachers, support staff and students got involved, inspired by the Tree of Life metaphor which appeals to all ages. Her Majesties Inspectors were impressed with the work earning a mention in the school's OFSTED inspection report.
"Parents and carers hold the school in high regard in the way the staff care for pupils and help them in difficult times. For example, through an initiative called The Tree of Life, all pupils have been encouraged to be reflective. Pupils and their families experiencing trauma have been supported particularly well through this approach" (OFSTED, 2011).